Enquiry : 98 95 28 41 57
Help Line: +91-480-654 0 654
SA-3001-S - T & A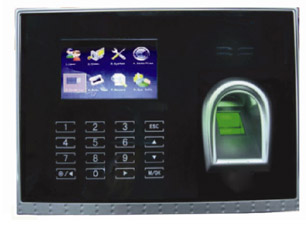 Features
SA-3001-S is a standalone fingerprint T&A Sysytem. System,IN and OUT status, also low price with good pewrformance,designed specially in the purpose of popularizing the fingerprint products. It could store 3000 fingerprint templates and 50000 transaction records.It will bring you much profits because of its low price.
Specification
Q-Touch Keypad
3.0" Digital color TFT
500 DPI Optical Sensor
Communication: TCP/IP,RS232/485/USB
32 Bit High speed embedded processor
3000FP Templates & 1,00,000 Transaction
Card Reader: Inbuilt Proximity Card reader
T&A Software with Visitor Management TimeTrackLite with MSAccess free
Also available MS-SQL and Oracle version
Optional :
Smart Card Reader
HID(iProx) Card Reader

"We believe that success is always a result of dedication and co-operation."
"Provide right solution at the right time to the right people"





Social Network |