Enquiry : 98 95 28 41 57
Help Line: +91-480-654 0 654
SA-300-A - T & A with Access Control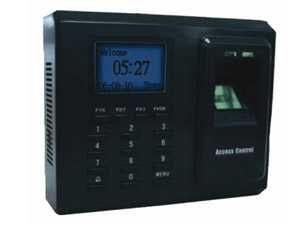 Features
SA-300-A is a standalone fingerprint T&A System,IN and OUT status, also low price with good pewrformance,designed specially in the purpose of popularizing the fingerprint products. It could store 1500 fingerprint templates and 50000 transaction records.It will bring you much profits because of its low price.
Specification
Size: 180(L)*82(W)*55(H)mm
User capacity:1500;Transaction Storage:50000
Inbuilt proximity card reader
Electric lock control: Directness relay
output12VDC
Communications:RS232/485,TCP/IP/USB
Sensor: Optical sensor 500 DPI
Support external 26 bit Weigand reader for exit
Weigand out to connect 3rd party Controller
Support external Fingerprint reader Sr100
T&A Software with Vistor ManagementeTimeTrackLite with MSAccess free
Also available MS-SQL and Oracle version
Optional:
Mifare Card reader
HID card reader
PSU : (12V 1Amp)

"We believe that success is always a result of dedication and co-operation."
"Provide right solution at the right time to the right people"





Social Network |