Enquiry : 98 95 28 41 57
Help Line: +91-480-654 0 654
Hospital Management System V2.10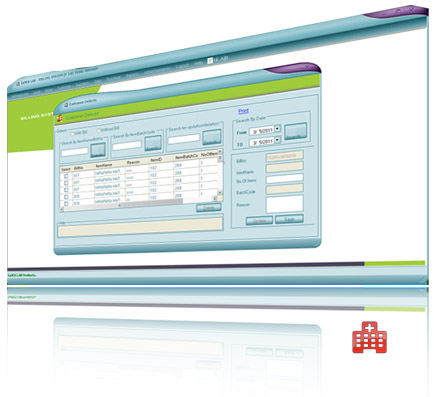 Features
Hospital Management System V2.10 is cost cutting and efficient management software. Hospital Management System V2.10 not only provides an opportunity to the hospital to enhance their patient care but also can increase the profitability of the organization. Hospital administrators would be able to significantly improve the operational control. This would enable to improve the response time to the demands of patient care because it automates the process of retrieving patient information.
Benefits
Patient Registration
Appointment Scheduling
Admission Discharge Transfer
Bed Management
Wards Management
Patient Relations
Doctors Workbench
Nursing Workbench
Electronic Medical Record
Clinic Specialties
Laboratory Information System
Pharmacy and Stock Handling
Purchase Order Handling
Blood Bank
Stock Maintenance
Housekeeping/Laundry
Equipment Maintenance System (EMS)
Healthcare Packages
Patient Billing
Hospital Administration

"We believe that success is always a result of dedication and co-operation."
"Provide right solution at the right time to the right people"





Social Network |