Enquiry : 98 95 28 41 57
Help Line: +91-480-654 0 654
Hotel Management System V1.1.3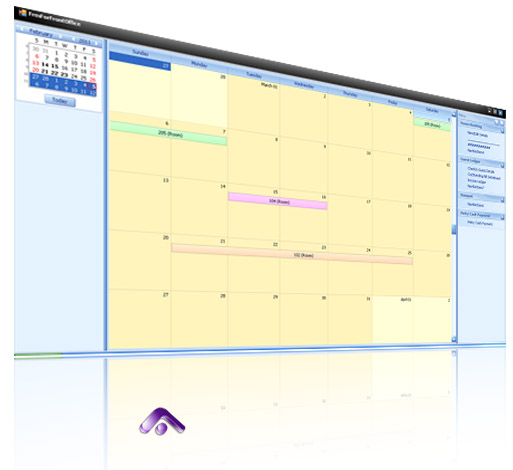 Features
Hotel Management System V1.1.3 used to automate their day-to-day operations such as Reservations and Room bookings, check in or checkout, room staying, room planning, guests, accounts, folios, agents, KOT, Food Costing, Laundry management, Travel Desk – ticket booking, Banquet – reservations and booking and with other options.
Benefits
Front Office
Guest Reservation System
Check In/Reservation, Room Status, Guest Ledger, Guest Plan, Meal Plan, Comments Card/Feedback Form
F & B Production
Kitchen Store Manager
Kitchen Store
Kitchen Inventory
Food Costing
Breakage Handling
F&B Service
Restaurant
Generate KOT (Kitchen Order Ticket)
Sale
Take away
Inventory List
Banquet Hall
Banquet Menu
Function Prospect (Banquet Booking)
Pro Forma Invoice
Banquet Amenities
Services
Home Delivery
Out Door Catering(ODC)
House Keeping
Task Scheduling
Work Intent Book
House Keeping Report
House Keeping Configuration
Room Inventory
Housekeeping store
Maintenance
Work Order List
Maintenance Item Configuration
All maintenance inside the hotel is handling with priority of request
Handling Information regarding AMC of important and expensive equipments.
Laundry
Laundry Service – Laundry/Pressing/Dry Cleaning
Laundry Items with Category
Laundry Register -Guest / Hotel Laundry Register
Guest laundry facility for room guest.
Staff laundry facility for staff of hotel.
Laundry Sheet
In House / Out Side laundry maintenance.
Auto Calculation of Prices based on the Job such as Laundry, Pressing etc.,
Provision to edit/delete records during billing
Travel Desk
Booking of various vehicles available and to track their availability
Generate booking report and take prints of booking bills.

"We believe that success is always a result of dedication and co-operation."
"Provide right solution at the right time to the right people"





Social Network |