Enquiry : 98 95 28 41 57
Help Line: +91-480-654 0 654
Billing System for Any Business V3.6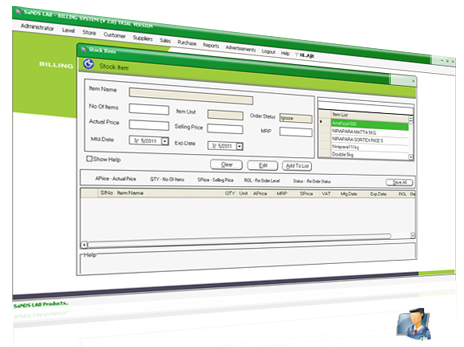 Features
SaNDS BILLING SYSTEM V3.6 Keep track of entire business sales ad purchase order details. Process and maintains inventory details effectively. Quickly generates financial transaction reports in computerized format. Provide safeguards against unauthorized user access. Manage all Customers, Vendors and Item details for easy maintenance and access of accounting transactions. Implements to use PO management program benefits both small and large level organizations, business and firms to process and maintain customer, vendor, stock and other invoicing details in the most economical way. Helpful in generating various electronic bills of sales, purchase and other printable reports to track overall business transaction details and Item transaction Report. SaNDS BILLING SYSTEM V3.6 is an economical, secure with simple working and no technical skills or training is needed to work on .
Benefits
Item Handling
Supplier Handling
Purchase Order Generation
Purchase Payment Handling
Stock Handling
Sales
Customer Privilege Card Handling
Defect and Non-Defect Return Management
Purchase Damage Management
Shop Details
Advertisements

"We believe that success is always a result of dedication and co-operation."
"Provide right solution at the right time to the right people"





Social Network |