Enquiry : 98 95 28 41 57
Help Line: +91-480-654 0 654
Export Punching to .xls and .txt files from Biometric Device for SAP Integration V3.0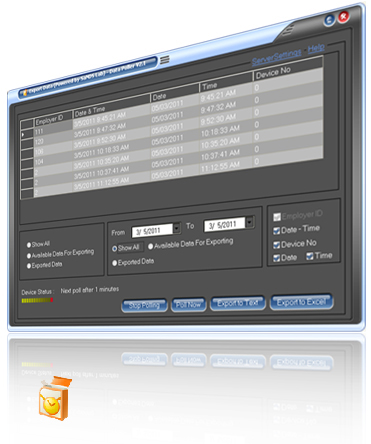 Features
Method that is used for the above Software is based on traditional finger scanning technique, involving the analysis of small unique marks of the finger image known as minutiae. The user provides their fingerprint to the system, which is then authenticated against a stored template. The information is saved by the software to track the Person who entered, who went out, his/her punched time etc. All information from the Biometric device can be transferred to Text files and Excel files. Software has added facility for SAP integration.
Benefits
Facility to download information from Biometric Finger Device
Facility to export Biometric Device Data to Text file and to Excel File
Exporting can be done with date wise options.
User can view Exported data and also data to be exported

"We believe that success is always a result of dedication and co-operation."
"Provide right solution at the right time to the right people"





Social Network |