Enquiry : 98 95 28 41 57
Help Line: +91-480-654 0 654
ClubSoft V2.3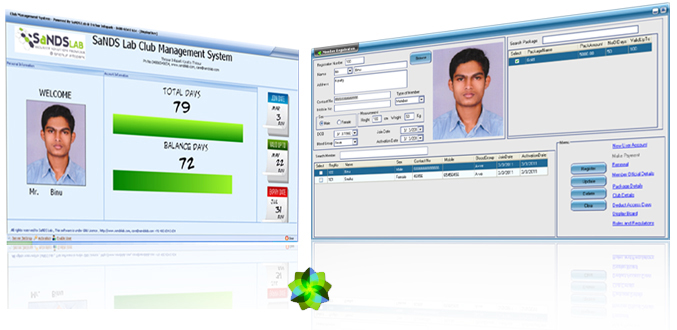 Features
ClubSoft V2.3 with Biometric Fingerprint Device/ Proximity Card reader is a versatile application to manage any Club with registered members. This Software manages Members according to their payments made to the Club. Monitoring the expiry date of membership package or the validity date of membership, a memberís entry to the club will be denied or approved. New member can be registered with privileges. Privileges are set using the membership packages. Membership Packages can be created as and when required by the Club. Also a member can renew his/her membership. A member can be enabled or disabled to access the Biometric Fingerprint Device /Proximity Card Reader as and when required by this Software.
This system can monitor Total Days of Access made in the Club. All the data can be exported from the reader (Biometric Fingerprint Device /Proximity Card Reader). A Display Board is maintained to display the events in the club. When a member makes a punch in the Biometric Fingerprint device or using Proximity Card, in the display screen the Total days, Available days, Expiry Date will be displayed at the same time, so that the member can see their status when they login to the club.
Benefits
Access to Club with Biometric Finger Authentication/ Proximity Card Authentication
Memberís access to Club will be done using Biometric Fingerprint device /Proximity Card reader. Only authenticated Member will get access to Club.
Member Registration with Chosen Packages and Member can update to any Package.
While Registering a Member, he/she can choose a package based on that his/her Validity of Total Access Days monitored. If they prefer, they can change their Package.
Package Handling and Payment handling with Reports
Club will have full control on all package and they can edit/add any package as and when required.
Member Registration Validity Handling
Memberís Total Access Days to Club will depend on their Package they choose. And it can be renewed as and when required.
Member Access Enabled or Denied with Registration Validity Control
Once the Total Access Days are over, member will be blocked to enter into Club unless he/she Renew their Registration.
Member Registration Renewal
Before Denying the Access to Club, Member can renew their Registration by choosing a new Package or the same package with renewal payment.
Display Board Maintenance
Member Details will be displayed here when they make the punch. Member Total Access Days and Information regarding their Renewal, all such information will be displayed here.
>b>Helps the Club to restrict unauthorized Access
The Authorized person can control the member number of access to the club. So the member cannot misuse their punch. All transaction will be recorded and the administrator can see the details of the access to the club.

"We believe that success is always a result of dedication and co-operation."
"Provide right solution at the right time to the right people"





Social Network |